Happy Friday Members:
Hope you are all enjoying this spell of bright sunshine. Read on for some tidbits about your Club!
It's time I got acquainted with a racket. Join us today at 12pm on Court 6 for my induction! Nicola and Kyle have been stretching to give me a run for my money!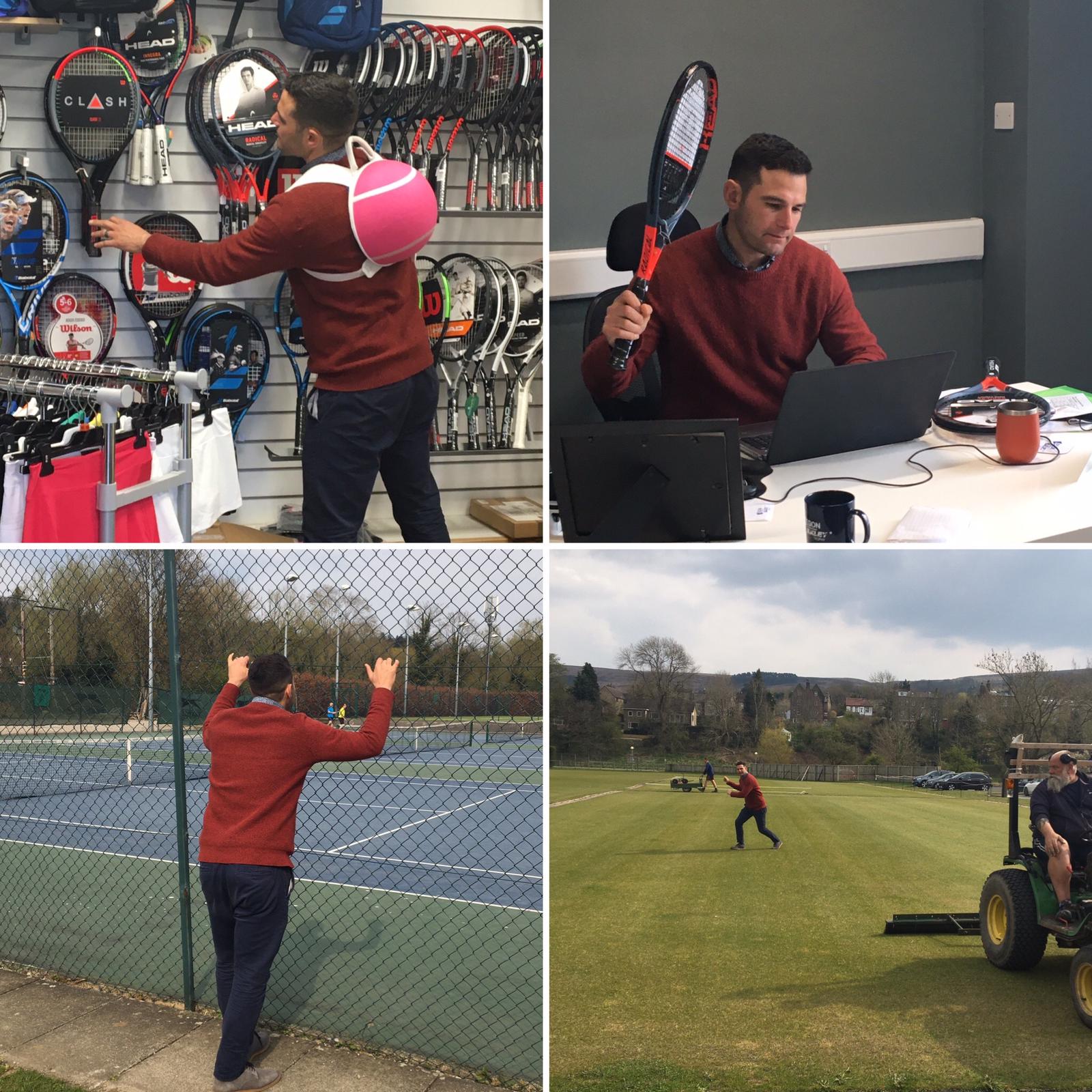 Fitness
Covid-secure
A big thank-you to all of our Members being diligent to keep Covid-secure. I am pleased to see so many cleaning down equipment after use. Our Fitness Instructors are also keeping busy with non-stop cleaning, to ensure that we can continue to stay open!
One-way system
We had been using a one-way system for the corridor behind the Squash Courts as it is difficult to maintain distance if there is more than one in that hallway. We have removed the one-way, as we have learned it is possible to just wait your turn to cross the corridor. This also will allow you to go back and forth from the Gym to the Changing Rooms without having to go through the gate system.
Spin Classes
As you probably already know, you can now gain entry to the Spin Classes through the front. This allows you to check-in for the classes.  A big thank-you to your cooperation for not congregating upstairs as this has allowed the change.
Guest Passes
Please note that although members have six guest passes to use per year, this does not apply to our youngest fitness members under 16 years of age. Due to a U16's needing parental consent to join the Gym, we do not allow U16's to offer out guest passes.
Rackets
Tennis
This sunshine has been amazing. Glad to see so many making use of the outdoor courts. It's also been great to have the youngsters back on the indoor courts for their sessions and seeing so many smiling faces. Thanks to the parents who have been facilitating drop-off's and pickups at the Front Doors, for helping us adhere to Covid-restrictions.
Squash and Racketball
The sound of squash balls hitting the walls are echoing through the corridors – a sound of normality after such a long pause. Robbie has been busy coaching, so please reach out if you are interested in trying a new sport or dusting off the cobwebs.
Cafe Bar
Chef Louisa House is excitedly preparing to welcome all back into the Cafe Bar (table-service only) on May 17. Some exciting updates are in the works to welcome you back. In the meantime, the Horsebox is open and serving! In the evenings, the Duty Manager is always able to procure some cold beverages for you, so don't be shy!
As always, if you need anything don't hesitate to reach out to us at the Club.
Happy Friday,
Adam
/wp-content/uploads/2017/04/logo.png
0
0
Nicola Bayne
/wp-content/uploads/2017/04/logo.png
Nicola Bayne
2021-05-27 09:35:51
2021-05-27 09:36:49
Happy Friday!