Dear Members: 
I am sorry to announce (though some may be aware already) that we have had an INFESTATION of MERRY ELVES & REINDEER in the Club and will be shutting early tonight so they can get their jollies out in the privacy of SERVE. Hopefully they won't make an appearance again until this time next year.
On a more serious note, please allow me to take the opportunity to wish you all a Happy Christmas filled with merriment, warmth, and the company of neighbours, friends and family.  Both SERVE and the Club will have altered hours over the next couple of weeks, to allow our Team to have some much needed R&R over the holiday period.  I will list those timetables below along with some more Club news.
On behalf of the Club, have a very, merry Christmas!
Adam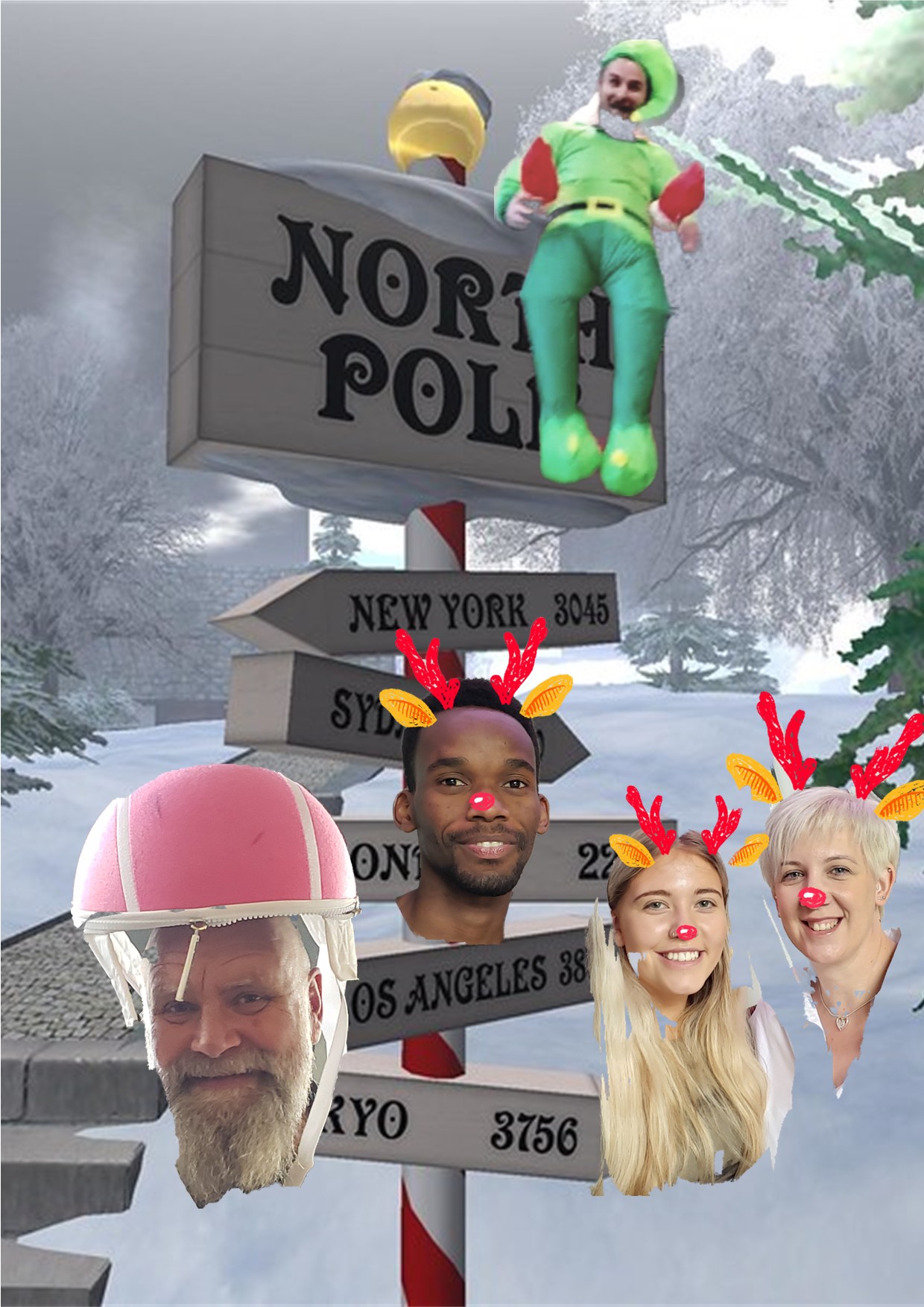 I'm Dreaming of a (Marcus) Whitehead Christmas
Right then folks! We have a whole host of classes running for you over the Christmas period this year. Whether your fourth portion of Chocolate profiteroles pushes you over the edge, or your pate has left its mark permanently on your arteries, you can come down here and escape the Chrimbo excess.
Mother/Father in law driving you crazy?
They won't follow you to a spin class!
Kids bouncing off the walls after consuming more E numbers than a vicious game of scrabble?
Boxercise is what you need!
Tv remote as close to lifting weights as you will come this Christmas?
Hit the gym and build that lean tissue up to help you lift the 100 empty boxes to the recycling bin!
Whatever your fitness needs, we have you covered.
On behalf of all the instructors here at the club we hope you have a fab Christmas and enjoy yourselves and we'll be here to help you burn off the Goodies.
Marcus Whitehead, Head of Fitness marcus@iltsc.co.uk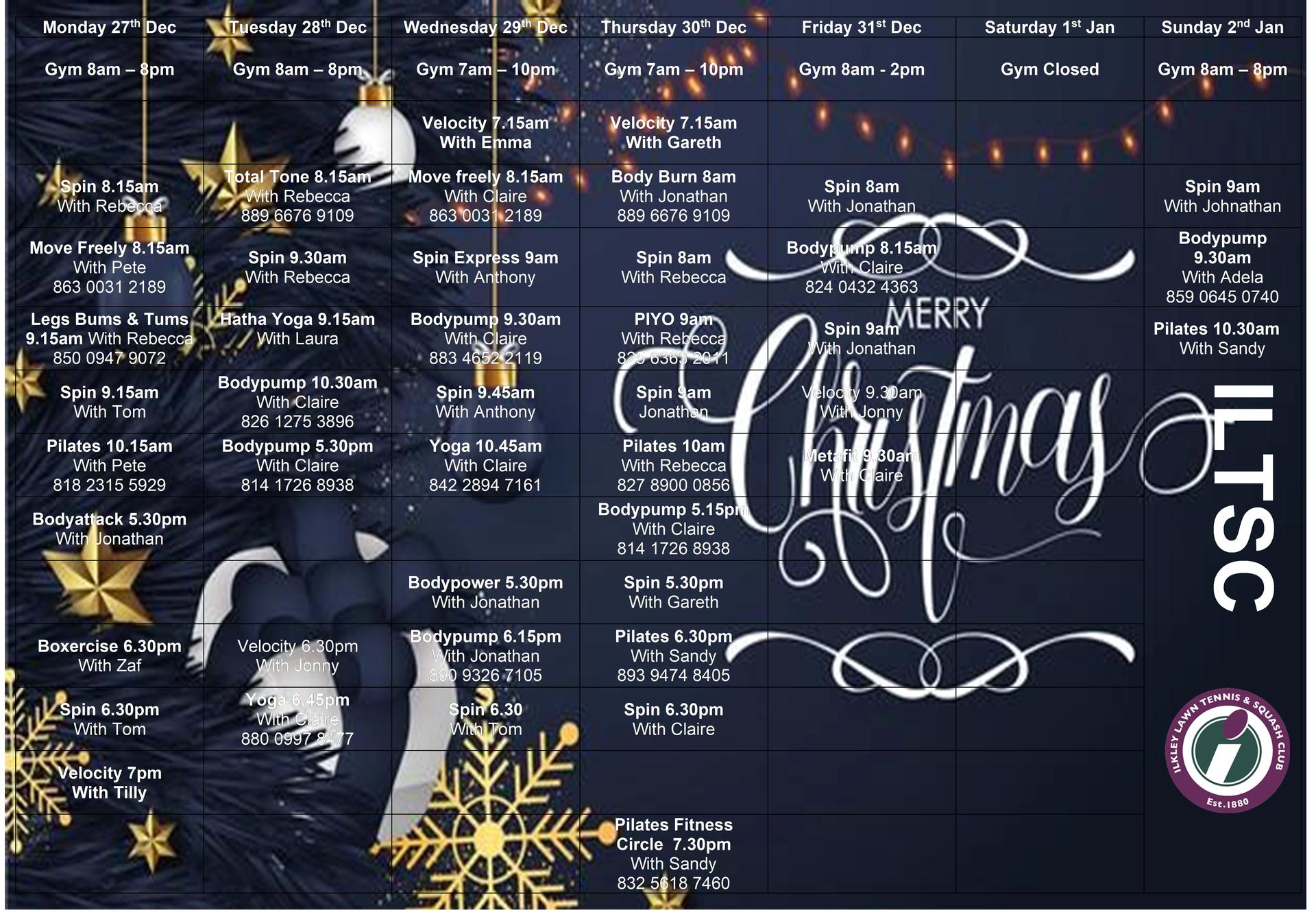 Deck the Halls with Balls & Volleys 
Performance Tennis
It;s been a sucsessful month for the performance team! Izzy, Thomas, Toby, Rafe, Kitt and Henry all have been collecting winners medals recently.
Thank you to everyone that continues to support both the development and performance programme here at the club.
Junior Coaching 
Our junior coaching programme finishes this weekend and will start up again Tuesday 4th January.  Classes for the New Year will be sent out over the next week. Please get in touch if you have any tennis-related questions.
Merry Christmas from all the Coaching Team!
 Kyle Brassington, Head of Tennis – kyle@iltsc.co.uk
Ilkley RB Beat Collingham Pa Rum Pa Pum Pum
The RB team got its season back on track with a 3-0 win over Rothwell 2.
Jeremy Linton lad the way and was back with a bang following his latest overseas trip with a group of kindred spirits looking for his inner self which had clearly inspired him as he raced to a 2-0 lead and 9-6 managed in the third only to lose 11-9. Going into the fourth at 10-2 up he started to lose points until the inspirational words of "don't do a Rudloff" started to swirl in his head and closed the game out 11-4.
Kenyon was unavailable performing to a packed audience as his alter ego "The King" during his burger years era so star overseas player Rudloff came back in from the cold to play his first game back since his opening day defeat 3-2 from 2-0 up and 3 match points.
With the specter of that defeat looming large he went off like a train winning the first game 11-8 until the wheels came off and his demons returned to haunt him losing the next two 3-11 and 10-12.
His opponent, being aware of his fragile psychological state then rather magnanimously feigned injury in a uncommon show of sportsmanship to allow our overseas payer to claim victory and take a first tentative step back on his long road to recovery
The victory was completed by Jeff Tucker who dropped his first game of the season thanks to some rather inconsistent referring calls but managed to keep his composure and close out a 3-1 victory to give the team a  clean sweep.
Next match Collingham away.
Match Report supplied by Richard Doyle
Can't Stop Christmas with Robbie (Burnett)
The Club hosted a Christmas Squash & Racketball Tournament this past week. Thank you to all of those involved and to Robbie Burnett for organizing.  Member and SERVE Teammate Jeff Tucker was crowned squash champion followed by runner-up Stu Bannister. Iwan Williams was crowned racketball winner with Geoff Wright as runner-up. Winners are pictured below with Bob Armstrong presenting.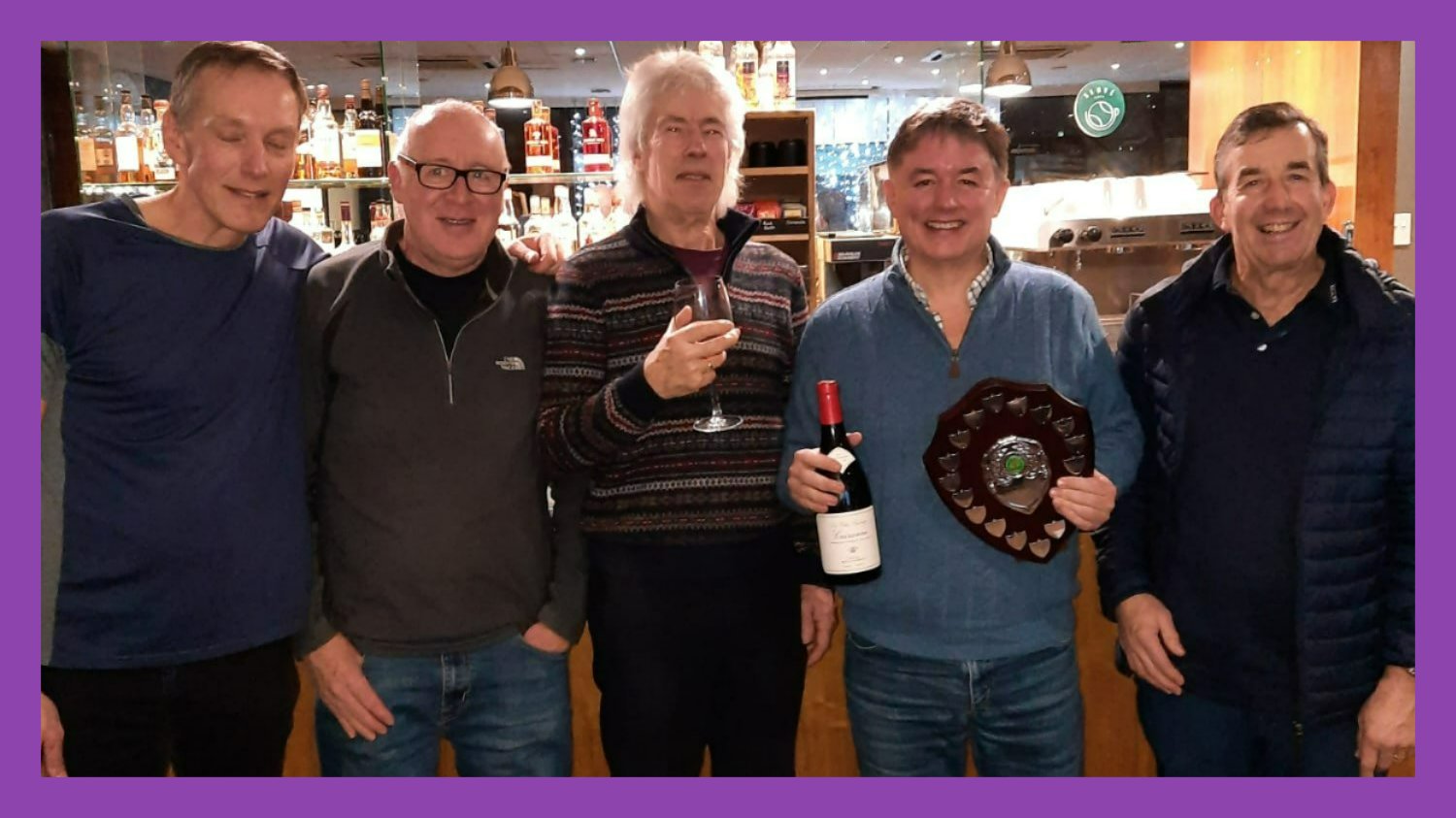 Do They Know When We Will Be Open This Year
We wanted to give you plenty of time to plan your workouts, classes and doubles sessions between plates of turkey and unwrapping gifts. Please be aware of our modified opening hours over the Christmas Holidays.
Friday 17th December 7am -7pm
Christmas Eve 8am – 2pm
Christmas Day CLOSED
Boxing Day CLOSED
Monday 27th December 8am 8pm
Tuesday 28th December 8am 8pm
Wednesday 29th December 7am – 10PM
Thursday 30th December 7am – 10pm
New Year's Eve 8am – 2pm
New Year's Day CLOSED
Sunday 2nd January 8am 8pm
Monday 3rd January 8am 8pm
Monday 20th and Tuesday 21st December
Service as normal 
Please note that from Wednesday 22nd December through January 3rd, there will be no food serve to allow Chef Lou some much needed time off. 
Wednesday 22nd and Thursday 23rd December 
8am until 6pm – Bar Only
Friday 24th December
8am until 1pm – Bar Only
Christmas Day and Boxing Day CLOSED
Monday 27th to Thursday 30th December 
8am until 6pm – Bar Only
Friday 31st December
8am until 1pm – Bar Only
New Years Day CLOSED
Sunday 2nd January
9am until 1pm – Bar Only
Monday 3rd January (Bank Holiday) 
8am until 6pm –  Bar Only
Tuesday 4th January 
Return to normal with food
/wp-content/uploads/2017/04/logo.png
0
0
Nicola Bayne
/wp-content/uploads/2017/04/logo.png
Nicola Bayne
2021-12-20 16:24:49
2021-12-20 16:24:49
Holiday Club Update 2021